FUTURES Foundation Receives AT&T Full STEAM Ahead for Florida's Future Grant to Fund Learning Innovation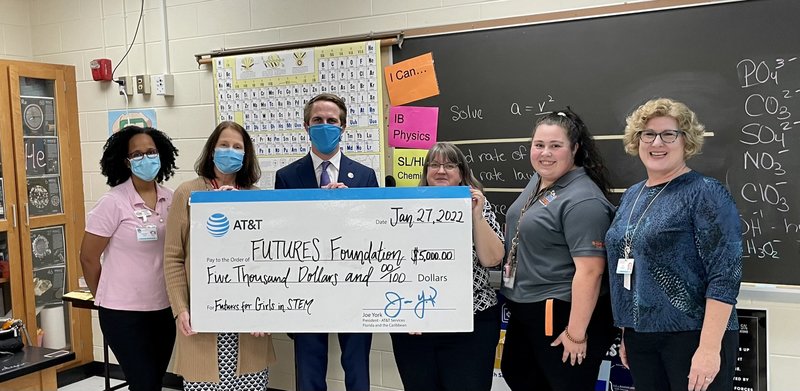 Students across Volusia County will benefit from a statewide investment by AT&T this year, one that seeks to engage students who may have fallen behind during the pandemic as well as those in underserved communities, families needing support with distance learning and high school students seeking to jump start their STEM careers through industry certifications.
For the 12th consecutive year, AT&T is working with the Consortium of Florida Education Foundations (Consortium) to support hands-on learning opportunities. Nineteen (19) separate projects organized and funded through Consortium member local education foundations will re-engage students who have fallen behind in academics and/or are in underserved communities through hands-on STEAM enrichment activities, student-led digital divide support or increasing CTE certification completion.
The purpose of the local project, Futures for Girls in STEM, is to increase the number of girls interested in STEM fields and those interested in pursuing STEM careers. This project will have two major components to carry out this purpose. First, there will be school clubs that introduce STEM activities and provide a platform to discuss the issues and rewards of being a girl in the STEM arena. Girls will also be encouraged to participate in a personal, yearlong passion project. Second, the larger collaborative of all the school clubs will have monthly guest speakers and take at least two field trips to investigate girls in STEM careers. These trips currently include going to the Orlando Science Center, Larson Motorsports, and others.
"We're eager to re-engage students who may have fallen behind over the past year by providing opportunities for them to experience the relevance of STEM curriculum in the world of work, through hands-on learning and career certification programs," said Joe York, President, AT&T Florida. "We've all learned how important it is to make sure families in underserved communities have support for digital learning at home so their children have the opportunity to accelerate their education, and we're interested in supporting local efforts in that area as well."
This year's statewide grant brings the total investment by AT&T over 11 years to more than $1 million. More than 79,000 students have been directly impacted through 469 projects involving 954 local workplace partners throughout Florida.
About Philanthropy & Social Innovation at AT&T
AT&T Inc. is committed to advancing education, strengthening communities, and improving lives. Through its community initiatives, AT&T has a long history of investing in projects that create learning opportunities; promote academic and economic achievement; or address community needs. The company's signature philanthropic initiative, AT&T Aspire, drives innovation in education to promote student success in school and beyond. With a financial commitment of $500 million since 2008, AT&T is leveraging technology, relationships and social innovation to help all students make their biggest dreams a reality.
About the Consortium of Florida Education Foundations:
The Consortium is the membership organization for Florida's school district-wide local education foundations. Established in 1987, the Consortium connects individuals, organizations, and financial resources to build the capacity and effectiveness of Florida's local education foundations. Together, Consortium members raise more than $83 million annually for a variety of locally driven initiatives and are led by 1,200 board members, 80% of whom are local business and community leaders working in partnership with school district leaders. The Consortium manages the nation's only 1:1 legislative match for education foundation initiatives and a variety of privately funded grant programs. To learn more about the Consortium or connect with any member local education foundation, visit https://educationfoundationsfl.org.
About FUTURES Foundation for Volusia County Schools:
FUTURES Foundation's vision is for all Volusia County Public School Students to be equipped and prepared for college or career success. Its mission is to engage business and civic leaders to promote and achieve educational excellence for Volusia County Public Schools. For more information about FUTURES, please visit www.FUTURESVolusia.org or contact Executive Director Cynthia Ramirez at 386-255-6475, ext. 50730, or FUTURESFoundation@volusia.k12.fl.us.
Photo 1 (L-R) : Stephanie C. Parks, FUTURES Foundation Program Coordinator; Cynthia Ramirez, FUTURES Foundation Executive Director, Kevin Craig, AT&TAT&T, Regional Director - External Affairs; Anne Cooney, Spruce Creek High Department Chair for Science; Kim Stears, Spruce Creek High AITR Academy Director; Amy Monahan, District Secondary STEM Specialist
---
Bookmark & Share
---
User Comments
Be the first to comment on this post below!