First Year Teacher Award
FUTURES First Year Teacher Award program recognizes beginning teachers who exceed district expectations. All nominees are honored at a reception in the spring and each receives a certificate of achievement. Two are selected as the First Year Teacher Award recipient at the elementary and secondary levels.
Melissa Diamond, a 5th grade teacher at Forest Lake Elementary School, received the Elementary level First Year Teacher Award while Julian A. Gutierrez, an 11th and 12th grade teacher from Mainland High School, received the Secondary level First Year Teacher Award. Forest Lake Elementary School is located in Deltona while Mainland High School is in Daytona Beach. The reception, co-sponsored by FUTURES and Volusia United Educators (VUE), featured refreshments prepared and served by the Mainland High Culinary Academy.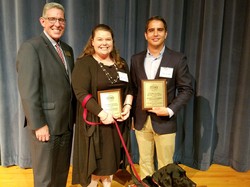 The 2019 celebration will take place in April 2019.