Teacher Of The Year Award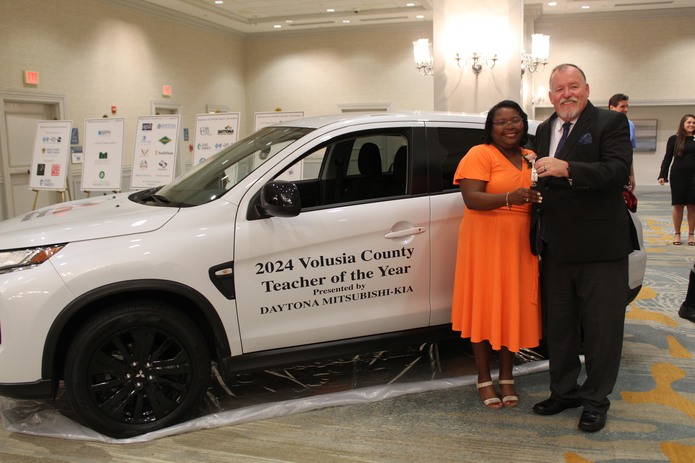 Vonda H. Morris from Spruce Creek High School is Volusia County Schools' 2024 Teacher of the Year. She was selected from 69 nominees representing schools countywide and was one of five finalists for the district award. She will now represent Volusia in the state Teacher of the Year program.
The VCS Teacher of the Year ceremony was co-hosted by FUTURES Foundation for Volusia County Schools and presented by AdventHealth. The event was held Friday, January 20, 2023 at the Hilton Daytona Beach Oceanfront Resort. Those in attendance included valued partners in education, sponsors, members of our VCS family, and supporters of each of the honorees.
Vonda H. Morris succeeds Madison Miller who was an Academic Coach at Chisholm Elementary School when she was selected to be Volusia County's 2023 Teacher of the Year. Ms. Miller is now an Assistant Principal at Palm Terrace Elementary School in Daytona Beach.
Vonda H. Morris is a Probability & Statistics / AP Statistics Teacher at Spruce Creek High School. She has been a Math Educator for 28 years and has taught at the middle, high, and collegiate levels.
"My students have taught and shared many of their life experiences with me. In doing so, they have managed to inspire and mold me. I desperately want all students who enter my presence to feel confident in who they are, what they can do, and how they can positively influence others. I get inspired by songs and dances I share with students when instructing them. Nothing is more exhilarating than having the students sing and dance with me and then hearing "Mrs. Morris, I never really understood math until now!" My heart melts, and I am inspired to be the BEST educator I can be, serving my students' math and life lessons as they keep me current with the generational lingo."
Vonda H. Morris is a leader whose work goes beyond the classroom, serving as a member of the school leadership team, mathematics department chair, new teacher liaison, class sponsor, and sunshine committee chairperson. Her test scores exceed district, national, and state averages.
Special awards were also presented to three teachers who embody this year's district theme: Leading with Grace and Respect.
Superintendent Dr. Balgobin presented the Leading with Grace and Respect Awards along with a $150 check from FUTURES to:
Robin Shank, Kindergarten Teacher, Friendship Elementary

Hai Chi Saber Bride, Mathematics Teacher, Silver Sands Middle

Tara Gardner, CTE Facilitator, Mainland High School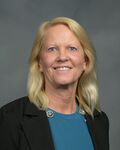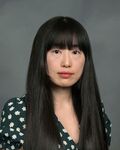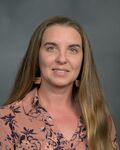 Major sponsors of the Teacher of the Year celebration include:
Presenting Sponsor – AdventHealth
Vehicle Sponsor – Daytona Kia, Daytona Mitsubishi, and Diamond Suzuki
Platinum Sponsor – Florida Health Care Plans and Space Coast Credit Union
Gold Sponsors – Duke Energy, Volusia Sheriff's Office, and Volusia United Educators (VUE)
Silver Sponsors – BRPH Architects Engineers, Inc., Dr. Robert & Candace Lankford, Mainstreet Community Bank of Florida and Publix Super Markets Charities
Bronze Sponsors – CPH, Inc., Daytona State College, Intracoastal Bank, Leonard's Photography, Susan & Carl Persis, Patricia Sample, SGM Engineering, SouthState Bank, Paul & Dr. Rosaria Upchurch, VASA - Volusia Association of School Administrators, VCCPTA – Volusia County Council of PTAs and Wharton-Smith, Inc.
FUTURES Regent's Club Members – Cobb Cole, Daytona International Speedway, Duke Energy, Florida Health Care Plans, Florida Power & Light Company, Launch Credit Union, Jerry & Kay Luttrell and Rue & Ziffra
FUTURES Chancellor's Club Members – Cici & Hyatt Brown, Brown & Brown Insurance, Coloni Family Foundation, Embry-Riddle Aeronautical University, Abel Viteri & team at Equitable, Foundation Risk Partners, Grand Canyon University, Ron & Lisa Hayes, LPGA, Oil & Vinegar, Synergy Billing, Wharton-Smith, Inc. and Sam & Barbara Willett
In-Kind Sponsors – Daytona Beach News-Journal, Dean Stewart Photography, Embry Riddle Aeronautical University, Herff Jones Co., Jostens Inc., Lodging & Hospitality Association of Volusia County, MBI Direct Mail, Nina B. Hollis Institute for Educational Reform at Stetson University, ONE DAYTONA, Premier Hotels, Simply Roses and Wishworks Media
Several businesses and organizations in Volusia County also contributed donations of goods and services to Volusia's Teacher of the Year program.
Thank you again to our sponsors, FUTURES club members, donors and volunteers who make the Teacher of the Year program possible!