Burntwood Tavern selects FUTURES as its opening charity partner for Aug. 26th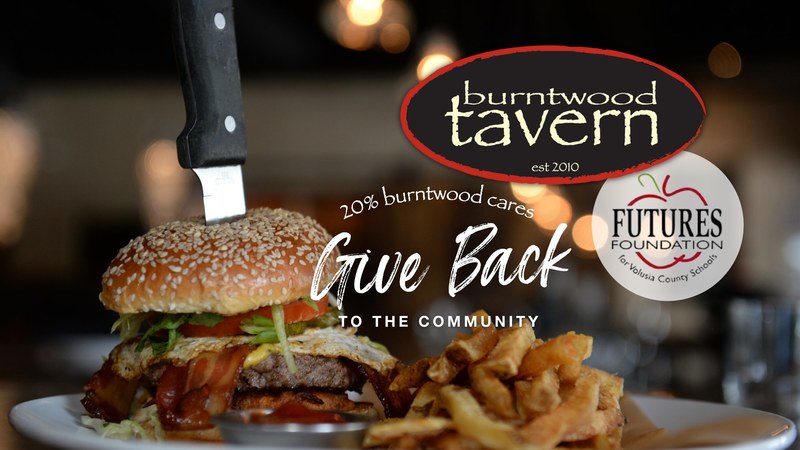 FUTURES Foundation for Volusia County Schools has been selected as the opening charity partner by Chef Art Pour Restaurant Group for its soon to open Burntwood Tavern in the Trails Shopping Center. Burntwood Tavern will donate 20% of all sales to FUTURES Foundation throughout the day including dine-in and take-out on Thursday, Aug. 26.
Offering a variety of bold flavor classics with a twist, the Ormond Beach location at 250 N. Nova RD, Ormond Beach, FL, will be Chef Art Pour's 15th Burntwood Tavern operating in Ohio and Florida. "We are committed to supporting our neighboring schools, youth sports teams and all non-profit organizations such as FUTURES Foundation," stated Jennifer Leonard, Director of Marketing & Events for Chef Art Pour Restaurant Group. "FUTURES Foundation's programs benefit so many students, teachers and staff across the Volusia County School District, it was an ideal fit within our mission. We're excited to have selected FUTURES as our opening charity partner for Aug. 26th."
"As FUTURES' mission is to engage business and civic leaders to promote and achieve educational excellence for Volusia County Public Schools, this partnership with Burntwood Tavern is a great fit to create awareness about our programs with their customers while raising funds," said FUTURES Executive Director Cynthia Ramirez. "We are gearing up for our annual programs within the new school year and these funds will assist us tremendously. We are grateful to have been selected for this Aug. 26th event."
FUTURES Foundation is a non-profit, direct support organization founded in 1985 to support Volusia County Schools. The Foundation's 30-member board of directors consists of area business and civic leaders who direct and raise funds to facilitate a variety of programs in the school district. FUTURES facilitates the Volusia Take Stock in Children Program which offers scholarships, mentors and hope to at-risk, low income high school students. FUTURES also funds teacher classroom mini-grants through its www.FindItFundItFundFlorida.com/Volusia portal and awarded more than $112,000 in grants last school year. This portal is open for teachers to apply through Sept. 15th for creative, innovative classroom projects.
Established in 2010 by the Chef Art Pour Restaurant Group, Burntwood Tavern offers classic American food with flare. With 15 locations throughout Ohio and Florida, the restaurant's warm and inviting atmosphere is rich in character, providing a polished venue for its straightforward, chef-driven menu of smoked, planked and wood-grilled food complemented by an array of handcrafted cocktails that include house-infused vodkas and bourbons as well as a diverse list of local craft beers, signature India pale ale and lager drafts. To learn more, visit the Burntwood Tavern website at https://www.burntwoodtavern.com or contact Ms. Leonard at 330-805-5113.
---
Bookmark & Share
---
User Comments
Be the first to comment on this post below!