FUTURES Receives $15,000 Grant from FPL for EmPOWERing STEM Teacher Learning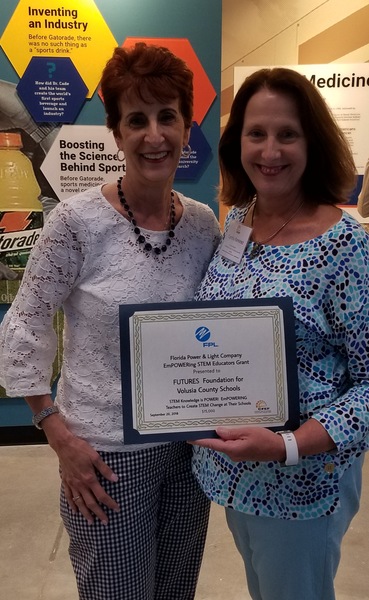 Daytona Beach, FL - The Consortium of Florida Education Foundations (CFEF) recently awarded the FUTURES Foundation for Volusia County Schools $15,000 for a Florida Power & Light Company (FPL) EmPOWERing STEM Educators grant for a STEM-focused teacher peer-to-peer learning opportunity.
Two teacher leaders and five team teachers from the Academy of Information Technology and Robotics at Spruce Creek High School were selected by the school district STEM Coordinator Amy Monahan to lead this peer-to-peer learning experience for 14 middle and high school teachers. This program will impact teachers from seven high and middle schools within FPL's service area who serve more than 2,100 students within Volusia County Schools.
"The Academy of Information Technology and Robotics at Spruce Creek High creates a unique STEM experience wherein students do not follow bell schedules but are responsible for overseeing their individualized learning," according to Ms. Monahan. "Students take ownership in their core subject learning and their academy learning. The academy part is real problem solving to either compete within the school or outside the school in the realm of IT and Robotics. This paradigm shift in education is one that should be observed and discussed for use in other schools. The school district has embraced what true STEM education is and by involving more teachers in this form of learning through this grant from FPL, it will create a greater influence in how our students learn. This methodology would benefit other schools to help students strive farther and play more of an active role in their learning. As a result, the teachers that have created and are immersed in this program are an asset to others, and this FPL grant will afford the opportunity for their expertise to be shared with fellow teachers."
The goal of the new FPL program is to increase teacher knowledge of effective math and science instructional practices that align with Florida Standards through classroom-based, teacher-to-teacher learning of effective instructional strategies.
"FPL is pleased to partner with CFEF to bring the EmPOWERing STEM Educators Program to school districts in Florida. The program will help teachers to improve their knowledge and continue to be the single most important factor to the success of students," said Maureen Wilt, education program manager for FPL. "Supporting our local education system is one of the ways that FPL works with the communities we serve to make Florida an even better place to work and raise a family."
Since 2010, the CFEF has administered hands-on, workplace-based STEM classroom learning experiences to increase student awareness and interest in STEM careers. These projects are managed at the school level through local education foundations that understand the needs and capacity of district schools and teachers and are able to target the funds for largest impact. In 2016 through 2018, the CFEF piloted 15 Peers in Public Practice projects supporting days of observable instruction for K-12 teachers to learn from their highly-effective peers in real-world, real-time classroom situations. During the 2017-18 school year, Volusia County Schools produced a Peers in Public Practice program through a CFEF grant received by FUTURES Foundation. FUTURES is continuing to fund a P3 program again this school year impacting teachers across the district.
As long-time partners with the CFEF, FPL observed the great outcomes from this pilot program and understood the CFEF's capacity to implement impactful projects through their membership. Together, they developed EmPOWERing STEM Educators to offer this type of professional development specific to math and science teachers throughout FPL's service territory.
"We know teachers value professional development that is relevant, job-embedded and gives them access to their colleagues as experts," said Mary Chance, president of the CFEF. "FPL respects the challenges of teachers in finding the most effective strategies for helping their students excel in math and science. Through this program they are providing the space and time for teachers to learn and grow together."
For more information about the statewide program visit: https://educationfoundationsfl.org/partner-programs/fpl-empowering-stem-educators
Photo: On left, Maureen Wilt, education program manager for FPL, and Cynthia Ramirez, Executive Director, FUTURES Foundation for Volusia County Schools
About the Consortium of Florida Education Foundations:
The CFEF is the membership organization for Florida's school district-wide local education foundations. Established in 1987, the CFEF maximizes the individual and collective strength of Florida local education foundations to support local partners and schools. The CFEF now has 64 member foundations with 1,100 business and community leaders serving as volunteer board members. Collectively, they raise more than $64 million annually to support students, teachers and schools through a variety of programs. The CFEF has provided nearly $46.5 million to local education foundations since 2002 through various private- and public-sector partnerships, including the State of Florida School District Education Foundation Matching Grants Program. For more information about the CFEF, visit: www.educationfoundationsfl.org
About Florida Power & Light Company:
Florida Power & Light Company is the third-largest electric utility in the United States, serving nearly 5 million customer accounts or an estimated 10 million+ people across nearly half of the state of Florida. FPL's typical 1,000-kWh residential customer bill is approximately 30 percent lower than the latest national average and among the lowest in the U.S. FPL's service reliability is better than 99.98 percent, and its highly fuel-efficient power plant fleet is one of the cleanest among all utilities nationwide. The company was recognized in 2017 as one of the most trusted U.S. electric utilities by Market Strategies International for the fourth consecutive year. A leading Florida employer with approximately 8,700 employees, FPL is a subsidiary of Juno Beach, Florida-based NextEra Energy, Inc. (NYSE: NEE), a clean energy company widely recognized for its efforts in sustainability, ethics and diversity, and has been ranked No. 1 in the electric and gas utilities industry in Fortune's 2018 list of "World's Most Admired Companies." NextEra Energy is also the parent company of NextEra Energy Resources, LLC, which, together with its affiliated entities, is the world's largest generator of renewable energy from the wind and sun. For more information about NextEra Energy companies, visit these websites: www.NextEraEnergy.com, www.FPL.com, www.NextEraEnergyResources.com.
---
Bookmark & Share
---
User Comments
Be the first to comment on this post below!