Volusia Names Ian Jackson Teacher of the Year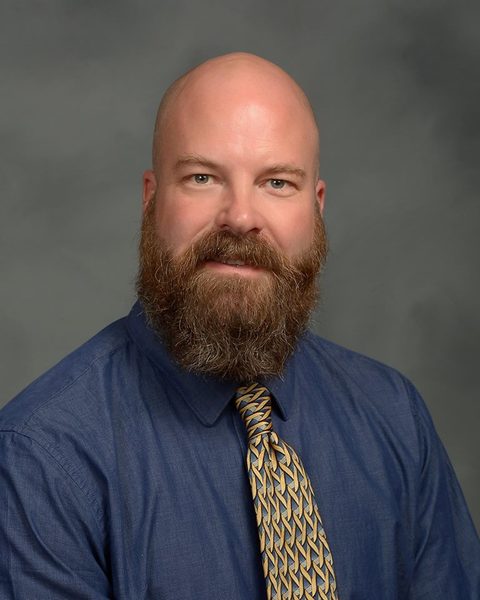 DAYTONA BEACH – Ian Jackson, AVID teacher from Taylor Middle-High, is Volusia County Schools' Teacher of the Year for 2020. He will serve as Volusia County's Teacher of the Year for one year, representing all of Volusia's teachers.
Mr. Jackson received his award before an audience of more than 900 friends of public education at the Hilton Daytona Beach Oceanfront Resort on Friday, January 18, 2019. The announcement was made at a celebration presented by AdventHealth and co-hosted by FUTURES Foundation and Volusia County Schools.
Jackson replaces Nicole Grebosz, who was Volusia County's 2019 Teacher of the Year.
In addition, four other teachers received special recognition as finalists:
Sharron DeRosier, World History and STEM teacher, Galaxy Middle
Sonia Larrabee, Academic Coach, McInnis Elementary
C. Michelle Pons, Volusia Online Learning teacher
Keisha Wallace, Math teacher, Atlantic High
Three teachers were named recipients of an award that represents the school district's three guiding principles. Superintendent Russell presented the awards along with a $150 check from FUTURES Foundation to:
Erin Keeran,7th grade Civics teacher, New Smyrna Beach Middle – Guiding Principle #1, Dedication to Increased Student Achievement. Keeran helped create a plan to increase the number of 7th graders who passed their state End of Course exams. New Smyrna Beach Middle was ranked 8th in the district in the 2015-2016 school year. The next year, after a lot of hard work and modified lesson plans the test scores improved and the school moved from the 8th spot to 3rd in the district.
Laura Huff, ESE Multi-VE K-5 teacher at Volusia Pines Elementary– Guiding Principle #2, Commitment to Finding Solutions to Problems. She has worked at Volusia Pines Elementary since 2015. She has stories of success that will bring tears to your eyes! For example, she worked with a kindergartener who was non-verbal, who spit, kicked and ran away a lot. Laura Huff found a way to get him a "voice output" device with a TouchChat communication application. He quickly learned how to put sentences together and answer question, and even tell jokes. He finally had a way to communicate! Now, two years later, this same student no longer needs the device and speaks clearly on his own. He reads, writes stories and is a peer leader.
Renae Lee-Rogers, Director of the Healthcare Academy at Pine Ridge High- Guiding Principle #3, Mutual Respect and Positive Relationships with all Stakeholders. Renae Lee-Rogers is the Director of the Healthcare Academy at Pine Ridge. She has not only formed great relationships with her students, she has created solid relationships with the community and businesses such as AdventHealth, Halifax Hospital, Fire Stations, and the John Knox Village retirement facility. Her students visit these places on a regular basis for "out of the classroom" experiences. She even formed a tight relationship with another Academy in her own school, the Manufacturing Academy, and asked them to help build a human. It's a dummy they named "Frank." The Manufacturing Academy and Healthcare Academy are now working together to make body organs for Frank. Frank is expected to be finished next month!
Major sponsors of the Teacher of the Year celebration included Presenting Sponsor AdventHealth, Vehicle Sponsors Diamond Motors & Marine, Daytona Mitsubishi and Daytona Kia, Gold Sponsors Florida Credit Union, LEGOLAND Florida, and Volusia United Educators (VUE). Silver Sponsors are BRPH Architects Engineers, Inc., Florida Health Care Plans, Giles Electric Company, Inc., H.J. High Construction Co., Dr. Robert and Candace Lankford, Launch Federal Credit Union, Mainstreet Community Bank of Florida, Publix Super Markets Charities, Rhodes+Brito Architects, and SGM Engineering, Inc.
Bronze sponsors included Alpha Kappa Alpha Sorority, Inc., A Wish, Women In Service to Humanity, Inc., CPH, Inc., William & Linda Cuthbert, Daytona Beach News Journal, Daytona International Speedway, Daytona State College, Intracoastal Bank, Leonard's Studios, PDK East Central Florida Chapter 1345, Susan and Carl Persis, Root Company, TD Bank, University of Central Florida, Volusia Association of School Administrators (VASA), Volusia County Council of PTAs (VCCPTAs), and Arthur and Ida D. Wright.
FUTURES Regent's Club Members who serve as sponsors for all events are AdventHealth, Bank of America, Brown & Brown of Florida, Hyatt & Cici Brown, Duke Energy, Florida Credit Union, Florida Health Care Plans, Florida Power & Light Company, Reames Employee Benefits Solutions, Rue & Ziffra, SunTrust, and Wells Fargo. Chancellor's Club Members include Cobb Cole, Coloni Family Foundation, LPGA, and Mader Southeast.
Leading the in-kind sponsorships is Barnes & Noble, Blue Man Group, Daytona State College, Dean Stewart Photography, Embry-Riddle Aeronautical University, Express Printing, Herff Jones Co., Hilton Daytona Beach Oceanfront Resort, Jostens Inc., Kuhn Flowers, LEGOLAND Florida, Madame Tussauds Orlando, Merlin Entertainments, Nina B. Hollis Institute at Stetson University, Sea Life Orlando Aquarium, Superwash, Universal Orlando Resort, and Wishworks Media.
Dozens of businesses and organizations in Volusia County also contributed donations of goods and services to Volusia's Teacher of the Year program.
---
Bookmark & Share
---
User Comments
Be the first to comment on this post below!