FUTURES Foundation receives $30,000 grant from Duke Energy Foundation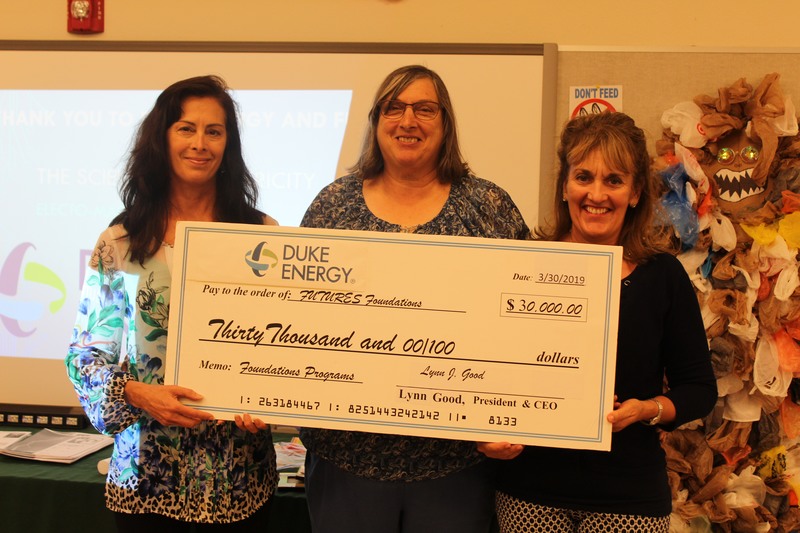 FUTURES Foundation for Volusia County Schools recently was awarded a $30,000 grant from the Duke Energy Foundation for Teacher Classroom Mini-Grants, energy related training for teachers and Volusia County Schools' Project IBIS at Rose Bay. Each year the company provides education foundations the opportunity to apply for grant funding and this year's investment in FUTURES represents a significant commitment by Duke Energy to support educational excellence within Volusia County Public Schools.
The 2019 Powerful Communities grants, from the Duke Energy Foundation with support from Piedmont Natural Gas, aim to close the achievement gap that often separates low-income students from their peers by funding programs that prevent summer reading loss and out-of-school programs. Grants also support energy, engineering and environmental education programs to equip students with the skills needed for successful careers in the energy sector.
"Bright futures begin in the classroom, and every child deserves a fair chance at academic success," said Cari Boyce, president of the Duke Energy Foundation. "The grants we are making today are focused on providing equal opportunity for all students to have the strong educational basis that has proven to be a key determinant to future success."
From May 31 through Sept. 10, Volusia County Public School teachers may apply through FUTURES Foundation's portal at www.FindItFundItFlorida.com/Volusia for energy related and STEM mini-grants. Selected grants will be funded in October for the 2019-2020 school year.
The teacher training portion of this grant will continue Duke Energy's legacy in Volusia County of providing STEM teachers with components and learning tools for their classrooms, which in turn have an immediate impact on their students. This recent school year 18 teachers attended the training and received electro-magnetic motor kits for their classrooms funded by the Duke Energy Foundation. Similar training will take place this upcoming school year funded by this recent investment.
This Duke Energy grant also supports Project IBIS, a seasoned program supporting conservation training and research around STEM and environmental initiatives as well as work force skills.
Pictured, left to right, with the Duke Energy Foundation check are FUTURES Board President Susan Mendez of Duke Energy; Louise Chapman, Volusia County Schools Enviro/STEM Resource Teacher; and Patricia D'Alessandro of Duke Energy.
About Duke Energy Foundation
The Duke Energy Foundation provides philanthropic support to meet the needs of communities where Duke Energy's customers live and work. The foundation contributes more than $30 million annually in charitable gifts and is funded by Duke Energy shareholder dollars. More information about the foundation and its Powerful Communities program can be found at duke-energy.com/foundation.
Duke Energy (NYSE: DUK), a Fortune 125 company headquartered in Charlotte, N.C., is one of the largest energy holding companies in the U.S. It employs 30,000 people and has an electric generating capacity of 51,000 megawatts through its regulated utilities, and 3,000 megawatts through its nonregulated Duke Energy Renewables unit.
Duke Energy is transforming its customers' experience, modernizing the energy grid, generating cleaner energy and expanding natural gas infrastructure to create a smarter energy future for the people and communities it serves. The Electric Utilities and Infrastructure unit's regulated utilities serve approximately 7.7 million retail electric customers in six states – North Carolina, South Carolina, Florida, Indiana, Ohio and Kentucky. The Gas Utilities and Infrastructure unit distributes natural gas to more than 1.6 million customers in five states – North Carolina, South Carolina, Tennessee, Ohio and Kentucky. The Duke Energy Renewables unit operates wind and solar generation facilities across the U.S., as well as energy storage and microgrid projects.
Duke Energy was named to Fortune's 2019 "World's Most Admired Companies" list, and Forbes' 2018 "America's Best Employers" list. More information about the company is available at duke-energy.com. The Duke Energy News Center contains news releases, fact sheets, photos, videos and other materials. Duke Energy's illumination features stories about people, innovations, community topics and environmental issues. Follow Duke Energy on Twitter, LinkedIn, Instagram and Facebook.
---
Bookmark & Share
---
User Comments
Be the first to comment on this post below!