FUTURES Foundation receives $30,000 grant from Duke Energy Foundation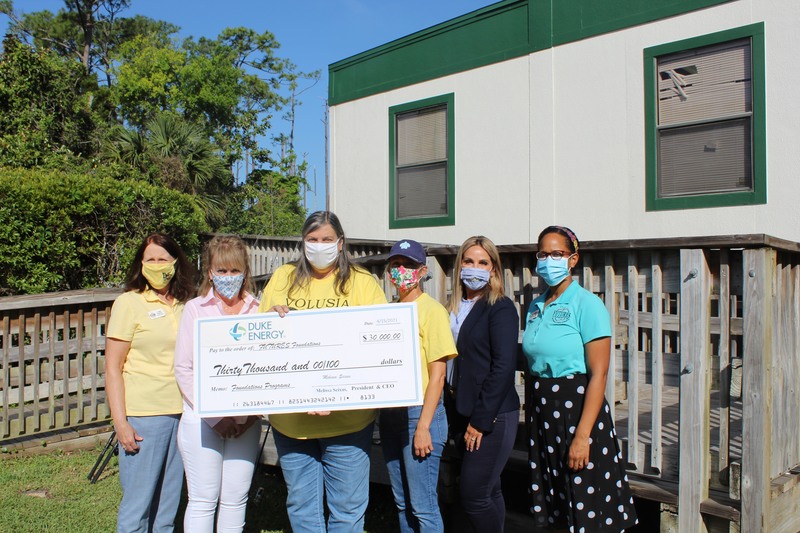 FUTURES Foundation for Volusia County Schools received a $30,000 grant from Duke Energy Foundation to create powerful communities in Volusia County through teacher classroom mini-grants and Volusia County Schools' Project IBIS (Investigating Biomes in Science) at Rose Bay in Port Orange, FL.
"FUTURES Foundation greatly appreciates Duke Energy's continued support in funding creative, innovative STEM and energy-related classroom projects for our teachers," said Cynthia Ramirez, FUTURES Executive Director. "Duke Energy's Powerful Communities grant also funds Project IBIS, an outdoor classroom setting for students to experience hands-on lessons at Spruce Creek Park and Rose Bay. Throughout the years, Duke Energy has funded hundreds of thousands of dollars here in Volusia County to support energy-related and STEM education."
FUTURES Foundation is one of 23 organizations in Florida to collectively receive $653,000 in grants from the Duke Energy Foundation. From June 1 through Sept. 15, Volusia County Public School teachers may apply through FUTURES Foundation's portal at www.FindItFundItFlorida.com/Volusia for energy-related and STEM mini-grants to be funded through this grant. Selected mini-grants will be funded in October for the 2021-2022 school year.
This Duke Energy grant also supports Project IBIS, a seasoned program supporting conservation training and research around STEM and environmental initiatives as well as work force skills.
"Building a brighter future begins with providing students with the best education and opportunities for success," said Melissa Seixas, Duke Energy Florida state president. "These grants are an investment in our communities and will strengthen and support those who are educating our next generation."
The Duke Energy Foundation's Powerful Communities program makes strategic investments to build powerful communities where our natural resources thrive, students can excel, and a talented workforce drives economic prosperity for all. The Foundation annually funds more than $30 million to communities throughout Duke Energy's seven-state service area.
About FUTURES Foundation for Volusia County Schools
FUTURES Foundation is a nonprofit, direct support organization founded in 1985 to support Volusia County Schools. Its mission is to engage business and civic leaders to promote and achieve educational excellence for Volusia County Public Schools. The Foundation's 29-member board of directors consists of area business and civic leaders who direct and raise funds to facilitate a variety of programs in the school district. For more information about FUTURES Foundation, visit www.FUTURESVolusia.org or contact Executive Director Cynthia Ramirez at (386) 255-6475, ext. 50730.
About Duke Energy Foundation
The Duke Energy Foundation provides philanthropic support to meet the needs of communities where Duke Energy customers live and work. The foundation contributes more than $30 million annually in charitable gifts, and is funded by Duke Energy shareholder dollars. More information about the foundation and its Powerful Communities program can be found at duke-energy.com/foundation.
Duke Energy (NYSE: DUK), a Fortune 150 company headquartered in Charlotte, N.C., is one of the largest energy holding companies in the U.S. It employs 30,000 people and has an electric generating capacity of 51,000 megawatts through its regulated utilities, and 3,000 megawatts through its nonregulated Duke Energy Renewables unit.
Duke Energy is transforming its customers' experience, modernizing the energy grid, generating cleaner energy and expanding natural gas infrastructure to create a smarter energy future for the people and communities it serves. The Electric Utilities and Infrastructure unit's regulated utilities serve approximately 7.7 million retail electric customers in six states – North Carolina, South Carolina, Florida, Indiana, Ohio and Kentucky. The Gas Utilities and Infrastructure unit distributes natural gas to more than 1.6 million customers in five states – North Carolina, South Carolina, Tennessee, Ohio and Kentucky. The Duke Energy Renewables unit operates wind and solar generation facilities across the U.S., as well as energy storage and microgrid projects.
Duke Energy was named to Fortune's 2020 "World's Most Admired Companies" list, and Forbes' 2019 "America's Best Employers" list. More information about the company is available at duke-energy.com. The Duke Energy News Center contains news releases, fact sheets, photos, videos and other materials. Duke Energy's illumination features stories about people, innovations, community topics and environmental issues. Follow Duke Energy on Twitter, LinkedIn, Instagram and Facebook.
Photo1: Pictured left to right: Cynthia Ramirez, FUTURES Executive Director; Patty D'Alessandro, Duke Energy Government & Community Relations Manager; Louise Chapman, Volusia County Schools EnviroSTEM Resource Teacher; Jennifer Taylor, Volusia County Schools K-12 Science Coordinator; Michelle Lee, Duke Energy Public Relations Assistant; and Stephanie C. Parks, FUTURES Program Coordinator
---
Bookmark & Share
---
User Comments
Be the first to comment on this post below!