FUTURES Names Keith Wallace as this year's Superintendent's Mini-Grant Creativity Award recipient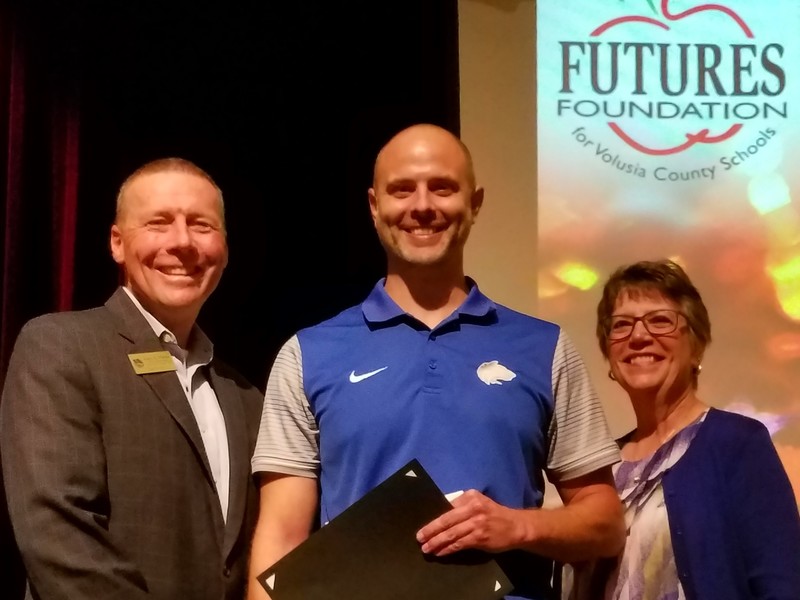 DAYTONA BEACH, FL – FUTURES Foundation for Volusia County Schools named this year's recipient of the Superintendent's Mini-Grant Creativity Award during an Oct. 29, 2018 celebratory program in the Performing Arts Center at Mainland High School.
Deltona High Career & Technical Education Teacher Keith Wallace received the annual Superintendent's Mini-Grant Creativity Award for his project "Mock Bathroom for Plumbing." To supplement the lecture and current written curriculum, Mr. Wallace's students will create a mock bathroom for plumbing installations in his classroom. Students will use the mock bathroom to learn how to plumb a bathroom in residential construction. Students will benefit by using this hands-on training method to learn basic plumbing methods of residential construction. "Without this mock bathroom funded by the grant, our plumbing unit would remain a lecture and theory unit only," stated Mr. Wallace. "Additionally, this training will allow students the ability to construct other projects with plumbing materials."
In addition to being honored at the event, FUTURES Foundation presented Teacher Wallace $250 in recognition for his creativity in addition to fully funding his $1,000 grant which was sponsored by ECMC Foundation/Wyotech-Daytona. This year's Mini-Grant sponsors also included Amscot, William and Linda Cuthbert; Duke Energy; Embry-Riddle Aeronautical University; Florida Credit Union; Florida Health Care Plans; Florida Hospital; Florida Power and Light; Heart of Volusia Inc.; New Smyrna Beach Board of Realtors; Miss Noopur Ranganthan; Rue & Ziffra; and SunTrust.
Nine additional projects were recognized for their creativity: Anne Cooney,
"Escape Room Chemistry: Solving the Mystery of Thermo House," Spruce Creek High; Dawn Drysdale, "PBL – Highlighting Suspense," University High; Andrea Finkle, "Want to Argue? Let's Start with Cats!," DeLand High; Suzanne Goodin, "Fill Up Your Cup With Greek Mythology," Southwestern Middle; Daniel Luby, "Miles to the Galleon: How Algae Could Fuel More Than Marine Life," Mainland High; Jacqueline Ouellette, "Building Readers with Ground Shaking, Ground Breaking Books & Equipment," Champion Elementary; Rebecca Strunks, "Primarily Focused on Hands-On Science," Blue Lake Elementary; and Joan Wheeler & Matt Coleman, "Beyond Reading Buddies: PreK and Fifth Graders Learning & Growing Together," Pathways Elementary.

This is the fifth year FUTURES Foundation is using an online teacher mini-grant portal, Find it & Fund it, Volusia! to assist local teachers obtain the resources they need. The portal, www.FindItFundItFlorida.com/Volusia, was created to provide teachers with a way to secure funding through crowd sourcing their ideas and provide students with opportunities they would not have otherwise. Through this platform, teachers can request funding for a variety of projects and donors can fund them, either fully or partially, with 100% of contributions going directly to the posted project by using the "Fund This Project" button. Teachers can also promote their projects through their own social media networks. As a 501(c)(3), donations to FUTURES Foundation for these teacher Mini Grant requests may be tax deductible; please consult your tax advisor.

From June to Sept. 7th, Volusia County teachers submitted 292 grant requests totaling more than $230,000. FUTURES Foundation and its sponsors were able to fund more than $71,382 to more than 161 Volusia County Teachers and/or Teacher teams during the Oct. 29th Mini-Grant reception hosted by FUTURES. The public is encouraged to visit www.FindItFundItFlorida.com/Volusia to view these creative, innovative grants and assist local teachers in finalizing funding for their projects. The columns may be easily sorted by clicking on each header and funding takes place by using the Fund This Project button.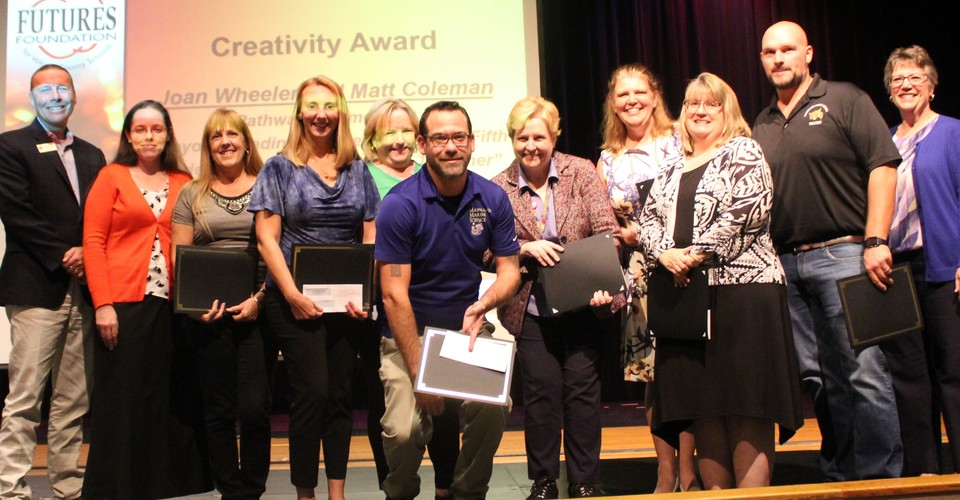 Creative Mini-Grant Award recipients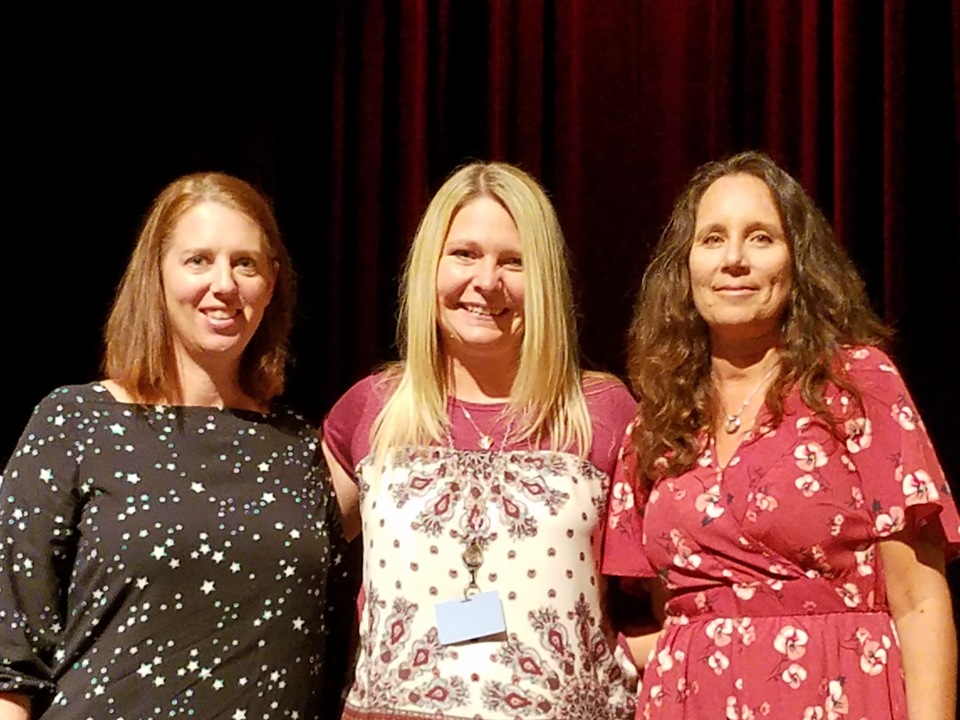 Teachers funded by New Smyrna Beach Board of Realtors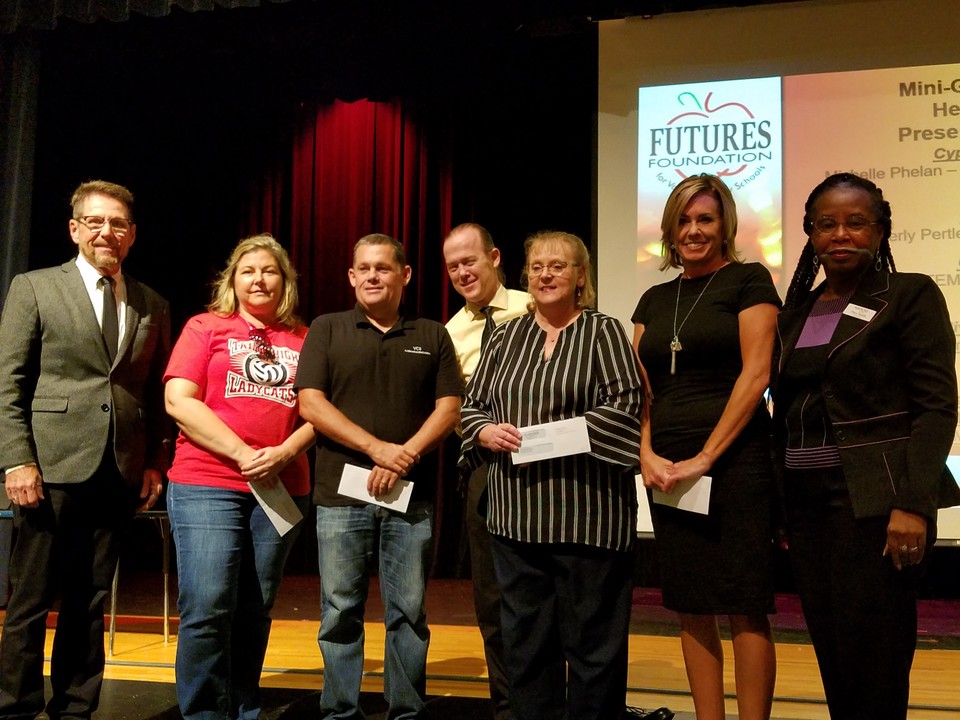 Heart of Volusia funds five heart related grants
---
Bookmark & Share
---
User Comments
Be the first to comment on this post below!