FAIRWINDS Foundation Announces Recipients of 2022 Grants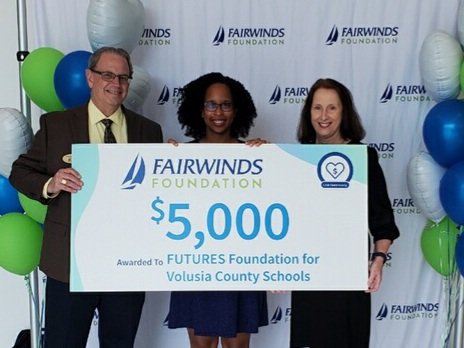 ORLANDO, FL (February 17, 2022) – FAIRWINDS Foundation, a nonprofit 501(c)(3) organization that serves as the philanthropic arm of FAIRWINDS Credit Union, today announced the recipients of its 2022 grants at a breakfast event held at Full Sail Live attended by Orange County Mayor Jerry Demings, community leaders and twelve organizations embodying the Foundation's core purpose of improving lives through financial well-being.
"We are proud to support each of these organizations, and we look forward to the impact they will make in helping others achieve financial freedom through education," said Elisha González, vice president of community relations and government affairs at FAIRWINDS and executive director of FAIRWINDS Foundation. "Through the positive impact of the causes we support, we hope to inspire financial freedom among both FAIRWINDS members and the communities we serve."
Through its grants, FAIRWINDS Foundation supports Central Florida's most economically vulnerable populations, including homeless and at-risk youth, victims of domestic violence, and minority business owners impacted by the global pandemic, among many others. In 2021 through its grants, FAIRWINDS Foundation made measurable impacts, from assisting Heart of Florida United Way secure $3.4 million in tax refunds for disadvantaged families to supporting Prospera USA's efforts to help small businesses create or retain 2,400 jobs.
Each of the selected organizations strives to foster financial understanding, stability and independence. The 2022 grantees include the following:
BBIF (Black Business Investment Fund) received a $25,000 grant, and will utilize the funding to provide additional financial literacy and financial education to Black, minority and underserved small businesses. A certified U.S. Department of the Treasury Community Development Financial Institution, BBIF's Financial Technical Assistance training services encompass Financial Literacy Education; this additional funding will allow for the organization to delve deeper into assisting smaller startup businesses – many having opened up shop as a matter of necessity.
Boys & Girls Club Volusia – Flagler Counties received a $20,000 grant. Funding from this partnership will be utilized to provide capacity for local Clubs to run BGCA financial literacy programming and provide training opportunities for Club staff to implement and facilitate programming relevant to each Club's needs. BGCA's partnership with FAIRWINDS Foundation can help address the root causes that can limit financial success and hinder future possibilities for Club youth.
City Year Orlandoreceived a $10,000 grant from FAIRWINDS Foundation, which will enable the organization to continue its programs supporting math and financial literacy initiatives at eight Title I, Orange County Public School partner schools. The grant will also equip AmeriCorps members serving in math classrooms with the resources and tools to support hundreds of students on foundational skills. As well, City Year Orlando will integrate FAIRWINDS training materials into Learning and Development Days for staff and AmeriCorps members in a series named Finance Fridays.
FoolProof Foundation, Inc. received a $15,000 grant, which will aid the organization created by the late CBS News Anchor Walter Cronkite alongside current Executive Director, Will deHoo. FoolProof strives to increase the number of middle and high school learners in Central Florida who have access to its industry-leading online financial education content. Doing so will allow the organization to meet its programmatic goal to address root causes of economic inequality in Florida, which include a lack of financial self-empowerment, critical thinking, and poor decision-making habits that drive consumers into debt.
FUTURES Foundation for Volusia County Schools received a $5,000 grant from FAIRWINDSFoundation to support its Your Financial Success! high school program. Offered through the school system's economics course, the program will teach students financial literacy concepts, terms and processes that relate to personal finance and the economy, while also exposing students to college and career opportunities related to finance and banking through guest speakers from FAIRWINDS Credit Union. The FUTURES Foundation anticipates it will impact approximately 2,500 high school students.
Habitat for Humanity Greater Orlando & Osceola County received a $10,000 grant from FAIRWINDSFoundation. The organization empowers low-to-moderate income families to take control of their economic futures through its HabitatU financial literacy and mentoring program. The grant will fund professional staff time to work with homeownership clients to improve their financial knowledge, skills, and status to ensure successful, long-term homeownership, including financial literacy classes and intensive one-on-one financial mentoring for up to 12 months. The funding will also go toward staff time, providing HUD-certified housing counseling to the general public.
Harbor House of Central Florida received a $20,000 grant, which will aid the organization's mission to prevent and break the cycle of domestic abuse through empowerment-based programs, advocacy, education, and community involvement. Harbor House has offered financial literacy and economic empowerment programming to clients since 2016. The main goal of the organization's work with domestic violence survivors is to provide safety in the short term while equipping them with the tools they need to thrive in the long term. Grant funding from FAIRWINDS Foundation will go toward staff salaries in the Economic Empowerment Program.
Impower, Inc. received a $15,000 grant, which will underwrite the costs for, and implement for one year, its Managing Money life skills program. This includes portions of program staff salaries who will instruct, coordinate and recruit volunteers to teach the sessions; needed program materials and supplies; and incentives to promote participation and engagement among its clients: The Village Transitional Housing Program for homeless youth 18-24 (many from the foster care system); and teens, 13-18, at The Grove Residential Substance Abuse Treatment Program for Youth (approximately 65% of which come from the child welfare system).
Junior Achievement USA was again granted $100,000 from FAIRWINDS Foundation, enabling the 100+ year-old organization to further its goal to teach young people in the community to take ownership of their financial future. In 2021 through its grant investment to JA USA, FAIRWINDS Foundation supported 2,648 students' participation in the JA Finance Park experience, where they developed successful money management habits, learned how to financially stand on their own two feet, make wise money decisions, and understand the economy in which they live.
Lift Orlandoreceived a $25,000 grant, enabling the organization to continue to provide support to the operation of the West Lakes Financial Well-Being Center (FWC) within the Communities of West Lakes and the 32805 ZIP code. FWC provides an aspirational environment, age-appropriate financial education, and financial counseling, such as budgeting, savings, credit repair, homeownership, and employment services.
Prospera USAwas granted $40,000 to address financial literacy through focusing on the training and coaching of underserved Hispanics so they succeed financially at the personal level, and have a better opportunity to become prosperous business owners. Prospera will utilize the grant funding to focus on the urgent needs small business owners face today: business resiliency education, handholding to overcome challenges, professional services from experts in areas of opportunity, and assistance with access to capital through government grants or loans from micro-lending partners or financial institutions.
United Way Suncoast received a $15,000 grant from FAIRWINDS Foundation. The organization will use the grant to support its Bank On Suncoast coalition, which disseminates safe banking information, conducts Bank On 101 financial education sessions for community residents, and implements banking access touchpoints in the Suncoast region – a key component to building long-term financial stability.
About FAIRWINDS Foundation
FAIRWINDS Foundation, a nonprofit 501(c)(3) organization, is dedicated to helping individuals achieve a path toward financial responsibility, security and freedom and inspiring them to transform the lives of others by living generously.
Through education, financial contribution and volunteerism, the Foundation works with and supports organizations that align with its passion of improving lives through financial literacy.
For more information, visit www.fairwinds.org/foundation.
###
About FAIRWINDS
FAIRWINDS, headed by President and CEO Larry Tobin, is headquartered in Orlando and is consistently ranked as one of the best financial institutions and employers in the region.
At FAIRWINDS, we believe that financial freedom is freedom to go further – whether that means putting a child through college, retiring early or starting a new business. We are the financial partner that doesn't want our members to have debt. FAIRWINDS empowers members to pursue and achieve their personal and business goals by offering products and services that promote healthy spending and saving habits.
---
Bookmark & Share
---
User Comments
Be the first to comment on this post below!