FUTURES Foundation receives $30,000 grant from Duke Energy Foundation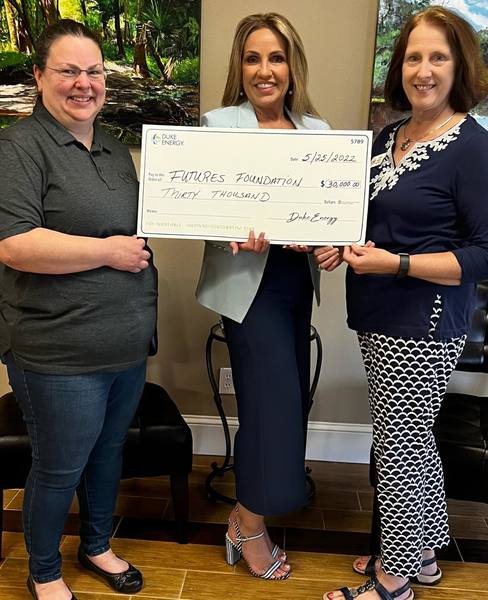 FUTURES Foundation for Volusia County Schools received a $30,000 grant from Duke Energy Foundation to create powerful communities in Volusia County through teacher classroom mini-grants and Volusia County Schools' Project IBIS (Investigating Biomes in Science) at Rose Bay in Port Orange, FL.
FUTURES Foundation is one of 22 organizations in Florida to collectively receive $641,000 in grants from the Duke Energy Foundation. From June 1 through Sept. 15, Volusia County Public School teachers may apply through FUTURES Foundation's mini-grant portal at www.FindItFundItFlorida.com/Volusia for energy-related and STEM mini-grants to be funded through this grant. Selected mini-grants will be funded in October for the 2022-2023 school year. This Duke Energy grant also supports Project IBIS, a seasoned program supporting conservation training and research around STEM and environmental initiatives as well as work force skills.
"By investing in our local education foundations and the programs that ensure all students have access to robust STEM education, we are helping to create a vibrant economy," said Melissa Seixas, Duke Energy Florida state president. "Duke Energy is proud to support these programs and help even more students gain the hands-on, essential skills needed to pursue energy and engineering careers and become the next generation of leaders and problem solvers."
The Duke Energy Foundation funding will support the Consortium of Florida Education Foundations' efforts to build capacity among the local education foundations and help them understand and meet the demands of the dynamic and evolving workforce, building students' skills, knowledge and literacy in STEM fields. "We believe strong local education foundations can engage communities in closing opportunity gaps for students, which is particularly important right now as we know many vulnerable students have gotten behind during the pandemic," said Mary Chance, Consortium of Florida Education Foundations president/chief executive officer. "Support from the Duke Energy Foundation directly impacts our ability to elevate Florida's education foundations by providing opportunities for them to connect with one another, learn new ideas and strengthen their capacity to innovate learning and power the potential of all students."
About FUTURES Foundation for Volusia County Schools
FUTURES Foundation is a nonprofit, direct support organization founded in 1985 to support Volusia County Schools. Its mission is to engage business and civic leaders to promote and achieve educational excellence for Volusia County Public Schools. The Foundation's 32-member board of directors consists of area business and civic leaders who direct and raise funds to facilitate a variety of programs in the school district. For more information about FUTURES Foundation, visit www.FUTURESVolusia.org or contact Executive Director Cynthia Ramirez at (386) 255-6475, ext. 50730.
Duke Energy Foundation
The Duke Energy Foundation provides more than $30 million annually in philanthropic support to meet the needs of communities where Duke Energy customers live and work. The foundation is funded by Duke Energy shareholders.
Photo: Pictured left to right: Heather Bond Vargas, FUTURES Foundation Board President; Michelle Lee, Government & Community Relations Liaison Duke Energy Florida and FUTURES Board Member; and Cynthia Ramirez, FUTURES Executive Director.
---
Bookmark & Share
---
User Comments
Be the first to comment on this post below!